Vaping and e-cigarettes
The term "electronic cigarettes" covers a wide variety of products now on the market, from those that look like cigarettes or pens to somewhat larger products like "personal vaporizers" and "tank systems." Instead of burning tobacco, e-cigarettes most often use a battery-powered coil to turn a liquid solution into an aerosol that is inhaled by the user. One e-cigarette device, called a JUUL, has become increasingly popular in recent years.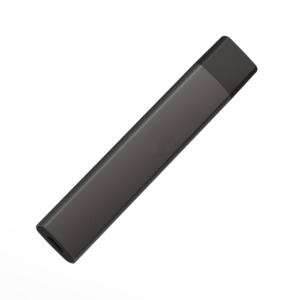 LEARN ABOUT THE JUUL (pictured at left) a device which has become increasingly popular, especially with teens:
INGREDIENTS IN VAPING / E-CIGARETTES:
ELECTRONIC CIGARETTES ingredients
---
My Life, My Quit TM
A Youth Tobacco and Vaping Cessation Program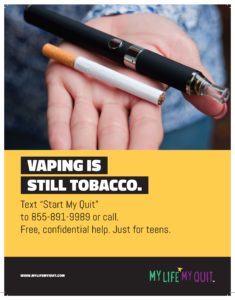 Nearly 5 million U.S. teens use tobacco and few widely available and accessible resources designed for youth exist to help them stop. As a tobacco quitline provider helping thousands of people quit tobacco every year, National Jewish Health has launched an enhanced tobacco and vaping cessation program for youth under age 18 who want to stop using tobacco products, especially electronic cigarettes like JUUL.
The My Life, My Quit program combines best practices for youth tobacco cessation adapted to include vaping and new ways to reach a coach using live text messaging or online chat. The program includes educational materials designed for youth created with youth input and through discussion with subject matter experts and community stakeholders. The My Life, My Quit specially trained coaches listen and understand youth, provide personalized support, and build relationships that promote quitting tobacco.
Coaches emphasize that the decision to stop is personal, and provide information to help cope with stress, navigate social situations, and support developing a tobacco-free identity.
The My Life, My Quit, program provides youth access to tailored resources for quitting, including:
Youth coaches who receive special training on the best ways to build relationships with youth

Five coaching sessions by phone, live texting or chat with a coach who will listen and help youth navigate social situations while finding healthy ways to cope with stress

Text or call a dedicated toll-free number (1-855-891-9989) for real-time coaching

Additional text messages for support to quit vaping, smoking, or chewing tobacco

Simplified program registration and enrollment process to get to coaching faster

Website (mylifemyquit.com) with online enrollment, chat with a live coach, information about

vaping and tobacco, and activities to support quitting

Promotional and educational materials designed for youth with messages from youth about quitting tobacco and vaping, and how to ask for support

A water-marked certificate of completion of the program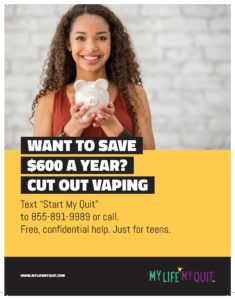 The program is supported and available in Colorado, Massachusetts, Michigan, Montana, Nevada, North Dakota, Ohio, Pennsylvania, and Utah. For media inquiries about the program, please contact William Allstetter at 303.398.1002 or AllstetterW@NJHealth.org.
---
URGENT HEALTH MESSAGE REGARDING SEVERE RESPIRATORY DISEASE ASSOCIATED WITH e-CIGARETTE/VAPING USE
MDHHS Healthcare Advisory 8-29-2019:
Severe respiratory pulmonary disease associated with e-cigarette/vaping use
(Aug. 2019) – The Michigan Department of Health and Human Services (MDHHS) is currently investigating six cases of severe pulmonary disease associated with e-cigarettes/vaping/dabbing. All cases have been reported in Michigan's Lower Peninsula and most of the individuals have been hospitalized for severe respiratory illness. The age range of the cases is 19-39 years. As of August 27, 2019, 215 possible cases of severe respiratory disease associated with e-cigarette/vaping use have been reported in 25 states. As a result, MDHHS is providing this update to all hospital emergency departments, healthcare providers, hospitals, medical examiners, clinics and EMS providers. MDHHS is also requesting that providers report patients with severe pulmonary disease associated with e-cigarettes/vaping/dabbing, with or without THC (tetrahydrocannabinol), to their Local Public Health Department.
Clinical presentation:
Symptoms experienced by confirmed cases include cough, shortness of breath, chest pain, fatigue, and fever. Other reported symptoms include weight loss, nausea, abdominal pain, and diarrhea.
In previously reported cases, symptoms generally worsened over a period of days to weeks before hospital admission. Chest radiographs have shown bilateral opacities (often in the lower lobes) and CT images have shown diffuse ground glass opacities. Some cases have improved with systemic steroids; some required endotracheal intubation. Note: a copy of the CDC's "case classification" criteria is attached, for your information.
---
MICHIGAN BECOMES FIRST STATE TO BAN FLAVORED VAPING PRODUCTS
(Sept. 3, 2019) – Governor Gretchen Whitmer took aggressive action to protect Michigan kids from the harmful effects of vaping. These actions include making Michigan the first state in the nation to ban flavored vaping products.
After her Chief Medical Executive, Dr. Joneigh Khaldun, made a finding that youth vaping constitutes a public health emergency, Governor Whitmer ordered the Michigan Department of Health and Human Services to issue emergency rules to ban the sale of flavored vaping products in retail stores and online, and ban misleading marketing of vaping products, including the use of terms like "clean," "safe," and "healthy" that perpetuate beliefs that these products are harmless. The governor also ordered the Michigan Department of Transportation to enforce an existing statute to prohibit the advertising of vapor products on billboards.
"As governor, my number one priority is keeping our kids safe," said Governor Whitmer. "And right now, companies selling vaping products are using candy flavors to hook children on nicotine and misleading claims to promote the belief that these products are safe. That ends today. Our kids deserve leaders who are going to fight to protect them. These bold steps will finally put an end to these irresponsible and deceptive practices and protect Michiganders' public health."
Read the full release from the Governor's office
---
GET HELP TO QUIT VAPING: www.thisisquitting.com/
---
Videos featuring SAFE youth
2018 Videos