Preventing Underage Drinking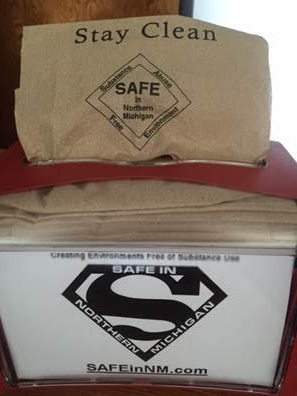 Our Lock it Up campaign featured SAFE youth in a 30-second Public Service Announcement (PSA) asking parents to lock up their alcohol. This PSA was shared on TV, radio, theaters, social media, billboards, banners and print ads. Along with the media, our coalition attended all the parent teacher conferences and asked parents to sign a pledge to lock up their alcohol supply. Once signed they were given a bumper sticker and a reusable bag that said, "I keep teens SAFE, I lock up my alcohol supply." Two styles of locks were available so parents who did not already lock up their alcohol could start.
Another strategy used to reinforce this campaign was Sticker Shock; where stickers were placed on pizza boxes throughout Antrim, Charlevoix and Emmet counties just before Spring Break. The "Lock it Up" message was also printed on hand-held fans given out during graduation ceremonies. Each school received a Celebration Toolkit, which provided resources to share with parents and students to encourage a safe Spring Break, prom, graduation season and summer vacation. These resources were designed to be included in school newsletters or on social media. The overall "Lock it Up" campaign had youth encouraging parents to make an environmental change within their own home.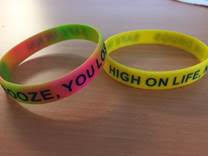 During the homecoming season, SAFE Youth created bracelets with catchy sayings like "You booze, you lose" and "High on life, not on drugs" to share with all high school students in the three counties. They also ticketed cars during the homecoming football game with Because we care tickets, sharing the consequences of getting an Minor in Possesion (MIP) on one side of the ticket and what happens if parents provide alcohol to a minor on the other side. Youth also completed the Sticker Shock campaign at local convenience stores where they placed stickers directly on alcohol containers reminding adults to not provide or buy alcohol for minors.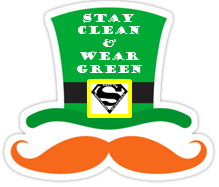 SAFE Youth members also created a video this year about the consequences of getting an MIP. This video was shown at high schools throughout the three counties.
St. Patrick's Day is often portrayed in the media as a drinking day! SAFE worked to change that social norm by providing all high school students with tattoos they designed to remind everyone to stay clean.
Finally, each year SAFE in Northern Michigan has provided thousands of napkins to area schools to use in the concession areas during athletic events with the "Stay Clean" message.
VIEW THE SHOALITION PRESENTATION