Our History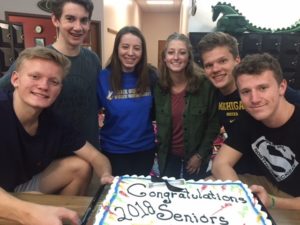 The origins of SAFE lie in the 2007 Youth Advisory Committee of the Petoskey-Harbor Springs Area Community Foundation. At the time, its members-student leaders from the four high schools in the Emmet County–identified substance abuse among youth as their #1 concern. In response, the Community Foundation invited a broad range of stakeholders to two Youth Substance Abuse Prevention Forums. About 40 community leaders participated in facilitated community conversations held on February 15, 2007 and March 16, 2007. They gave the community a D+ grade in its efforts to address substance abuse among youth, noting considerable denial of substance use prevalence. Their top recommendation was to form a community-wide substance abuse prevention coalition.
Next, the Community Foundation hosted the first "Youth Drug & Alcohol Task Force" meeting on June 28, 2007. At the meeting, parents and students and representatives from counseling agencies, courts, health department, hospital, schools, Tribe, and treatment centers drafted a mission statement, articulated goals, and developed an action plan/time line. They also selected Substance Abuse Free Environment (SAFE) in Northern Michigan for the coalition's name.
The Community Foundation awarded a small grant to pay for the projects the coalition planned to implement. One of the Steering Committee's first actions was to establish a youth work group to engage students in prevention activities; at the beginning of the 2007/08 school year, they recruited teen leaders from local high schools in Emmet County to join SAFE Youth. At their first meeting, on October 15, 2007, the students quickly got to work. With only minor assistance from Steering Committee members, they planned two "Take it Back Community Briefings on Underage Drinking", a national initiative sponsored by Facing Alcohol Concerns through Education (FACE). Speakers at the briefings, held on March 5, 2008 and March 6, 2008, included high school principals, local police officers, substance abuse counselors and others. Each one provided their perspectives on youth alcohol use. Over 500 students, parents and others attended the Community Briefings, making SAFE Youth's first initiative a great success.
Meanwhile, in the 2007/08 academic year, the State began the Michigan Profile for Healthy Youth (MiPHY), a survey conducted every other year of seventh, ninth and 11th graders' health risk behaviors and measures of risk and protective factors. The MiPHY collects in-depth data on substance abuse, violence, physical activity, nutrition, sexual behavior, and emotional health, including several items from the Michigan Youth Behavior Risk Factor Survey, providing valuable local comparisons to statewide data. Although there is no charge for schools to participate, administering the survey is time-consuming and disruptive to the school day. The MiPHY is important to SAFE (and other community partners) to target limited resources effectively to middle and high school students. Every year since 2007, SAFE members have visited each one of the school districts in the region to advocate for the MiPHY.
When the Charlevoix County Community Foundation learned of SAFE's accomplishments, it awarded a small grant to the coalition in 2008 to broaden SAFE's service area to include Charlevoix County. The Coalition Coordinator recruited student leaders from the Charlevoix County's four high school as well as other stakeholders.